ROHNERT PARK, Calif.—A message on an electronic billboard in the San Francisco Bay Area is calling for the reopening of schools in Sonoma County.
A group of North Bay parents organized a GoFundMe campaign to fund the billboard message, which is displayed next to Highway 101 in the city of Rohnert Park.
The billboard reads: "Missing All CA Students. Last Seen: 3/13 2020. Reward: Their Future. #OpenSonomaCountySchoolsNow."
The group of parents said they want to be a voice for the children.
"We have a lot of parents that are frustrated and getting more angry, that never would be, because this situation is getting to be ridiculous," Andrea Quartarolo, the organizer behind the billboard message, told The Epoch Times.
The message has been up on the board since Feb. 13. The parents and families who are funding it hope that the billboard will speed up the county's decision to safely reopen schools.
The billboard has sparked controversy, and some teachers have said they felt attacked.
However, the parents say that isn't their intention.
"The intent was strictly to say, hey, we're speaking on behalf of our kids. Our kids need to be going back to school. Whatever it takes to get them there, that's what needs to happen," Andrea Pedersen, a Sonoma County parent, told The Epoch Times.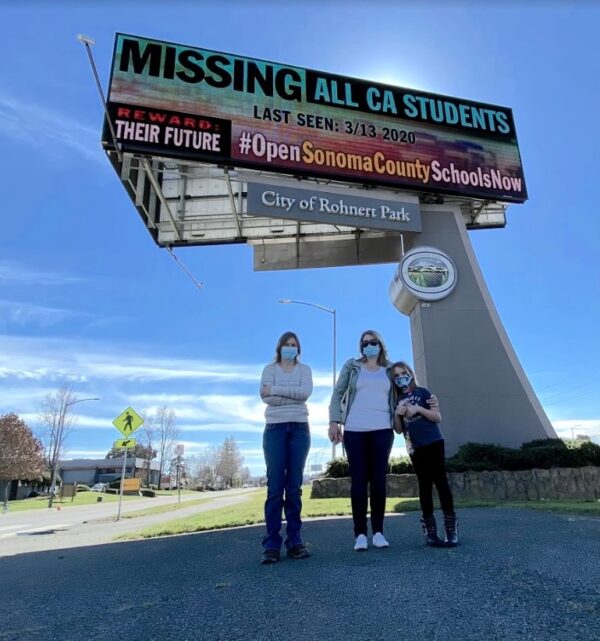 Challenges of Distance Learning
Pedersen's daughter Olivia misses in-person learning.
"I was really upset because I wasn't able to see my friends," Olivia Soderling told The Epoch Times.
Some children will soon begin "hybrid learning," meaning they'll go to school two days a week for about three hours.
"I don't feel like the two days a week is enough for these kids. It makes it harder for parents who are working full-time to be able to get their kids to and from school within a three-hour window," Pedersen said. "But if that is what we can get for our kids, it's better than nothing."
For Quartarolo, it's like a battleground at home every day, since her two children have become very unmotivated to get homework done.
"It's yelling, it's crying, it's screaming. It's 'I don't want to do it.' My daughter—I have to wake her up, and she cries because she doesn't like Zoom. 'I don't want to go to Zoom, I hate Zoom,'" she said.
"Doing the hybrid for two and a half hours is not feasible for any working parent," said Quartarolo. "So most parents would be opting out of that. So it's still not where we need to be."
Mary Lockler says her 15-year-old daughter has been depressed.
"The social aspect of school is huge," Lockler told The Epoch Times. "Kids are social beings, social development, and they've had a year of social starvation. And it's hard, and it scares me."
"They need those interpersonal relationships," she said. "They need to have an argument with friends and figure it out. They need to learn what a friend is. You know, they need to learn that there are rules in society and at school and if you don't follow them, there's a consequence."
Dealing with technology is challenging, too. Lockler said she pays for the most expensive internet at home, but it's still not reliable.
"At the time, we had three students because we also had a college student at home. There was a point [when] I was having to prioritize who stayed on in class and who had to get off so that an exam could be completed and not glitch out. How do you say whose class is more important?" she said.
These parents say there's a better solution.
"Consider schools essential. Put them up at the top of the list," Lockler said. "How are teachers not essential? That is our future. How can we not consider a teacher an essential worker?"
Quartarolo initially raised enough money within 24 hours to fund the billboard for two weeks. Now she has raised enough to leave it up for another two weeks.
Sonoma County is currently in Tier 1, the most restrictive tier in the reopening system. K–6th grade schools are allowed to reopen if they have COVID-19 case rates of fewer than 25 cases per 100,000 students.
Nancy Han contributed to this report.