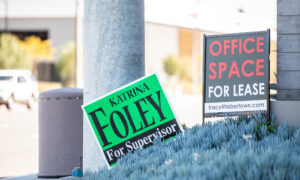 Orange County Board of Supervisors candidate Katrina Foley has outraised her competitors vying for the vacant District 2 seat, documents showed as the special election campaign reached its final week.
Foley, Costa Mesa mayor, received a total of $397,771 in contributions from donors since the beginning of the year, according to documents filed on the Orange County Registrar of Voters' website.
Jackie Wu, community outreach manager for the Orange County Registrar's Office, said candidates have a donation limit of $2,100 from a single source, regardless of whether it's from an individual or an organization.
The second-largest receiver of donations was Fountain Valley Mayor Michael Vo, who accumulated $216,841 this year, as of Feb. 20.
Former state senator and supervisor John Moorlach received $132,321 in donations during the same time period.
In fourth place for fundraising was Newport Beach Mayor Pro Tem Kevin Muldoon, who has received $64,085 to finance his campaign. Janet Rappaport, an international tax attorney from Corona del Mar, raised $24,496.
The opportunity to become the District 2 supervisor arose after Michelle Steel abandoned the post to join U.S. Congress in January. The district covers Costa Mesa, Cypress, Huntington Beach, La Palma, Los Alamitos, Newport Beach, Seal Beach, Stanton, Rossmoor, and portions of Buena Park and Fountain Valley.
A special election March 9 will determine who fills the seat from the following candidates:
In terms of election security, Wu said that there are strong restrictions in place that will ensure the vote is correctly tallied in both the upcoming supervisorial election and others.
"There are federal and state statutory requirements and regulations that ensure the integrity of the election," she noted. "From the voting system meeting national voting system guidelines established by the U.S. Election Assistance Commission, controlled chain of custody of ballots, post-election audits, and partnerships with the FBI, DHS, etc., and opportunities for public observation throughout the process, there are multiple controls in place to ensure election outcomes are correct."
If a candidate is thought to be in violation of properly disclosing their campaign funds, they will be investigated by the Orange County Ethics Commission, who will take appropriate action based on those findings.
Additionally, if there are leftover funds after an election is over, candidates may pay themselves back up to $2,100 if they loaned funds to their committee while they were running for office.